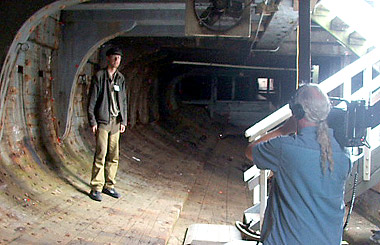 After more than 110 years, the elements have taken their toll on the ship.? When she was built the Wawona represented the cutting edge in ship building. Unlike her sister ship, the
C.A. Thayer
, the Wawona has fallen into disrepair. Our crew met with Nathaniel Howe of
NW Seaport
, David Steward of
East Carolina University
and others involved in documenting the elements of this historic, 110 year old veteran of the sea.
The Seattle Post Intelligencer recently reported on the move. Read the Seattle PI article.
.The Wawona will be dismantled at Lake Union Drydock after a laser scan is made of the ships entire hull.? Many elements of the ship will be removed for preservation.? The process will take about four weeks.
Photos: NW Seaport's Nat Howe walks us through the ship (right).? The Wawona is moved, stern first, into dry dock at Lake Union Dry Dock (below).