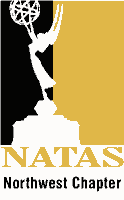 Hundreds of people clicked-in to view the LIVE stream of the event and still more have viewed the show since.

Congratulations to all the nominees and winners, especially our own Emmy nominated Jean Walkinshaw for her remarkable work on Remarkable People! SCCtv's General Manager and NATAS President John Sharify was honored with two Emmys. The event, held at the Jonas Jensen Fremont Studios and Theatre and was hosted by Pat Cashman.
A full listing of 2008 nominees is available at the NATAS Northwest Chapter website.